|
—– * —–
|
|
Susan Roberta Anderson
Parent Aid Teacher Principal
Centering around the 1979-1980 school year, the Anderson family moved to Castro Valley, became a part of Our Lady of Grace Parish and with Kristin's addition to the 3rd grade class, became members of the school community. Thus began Karen, Kristin, Susan and Ernie's OLG journey.
Susan started her career in the Parish teaching CCD classes and becoming a teaching aid at the school. She is first mentioned as a teaching aid in the 1982-1983 yearbook, and shown in a very teacher's-aid pose in the 1984-1985 yearbook.
While Susan first appears as a staff member in the 1985-1986 yearbook, we are certain that her teaching abilities captured in this photo vaulted her to the classroom … … nothing Mrs. Anderson … nothing at all.
OLG has been blessed with wonderful teachers throughout the years. Susan was no exception, adding to the continuing ranks of exceptional teachers in a setting of cooperation and coordinated efforts moving the children along, grade to grade.

She has been surrounded by smiling students, working hard to live up to her and OLG's high standards for spiritual and academic growth.
There was no magic in the classroom. Passion for learning and understanding, bolstered with an unending supply of energy and enthusiasm was the formula. A simple formula. A monumental accomplishment when followed day after day, and year after year.
The following shows Susan from 1983 to 2020.
Our Lady of Grace YEARSBOOK
These pictures show a woman involved in how many children's lives? How many hours, days, and years, smiling, encouraging, correcting, exciting, consoling… in general being a model of intellectual curiosity, showing the joys of learning and being an example and encouraging living together as a community.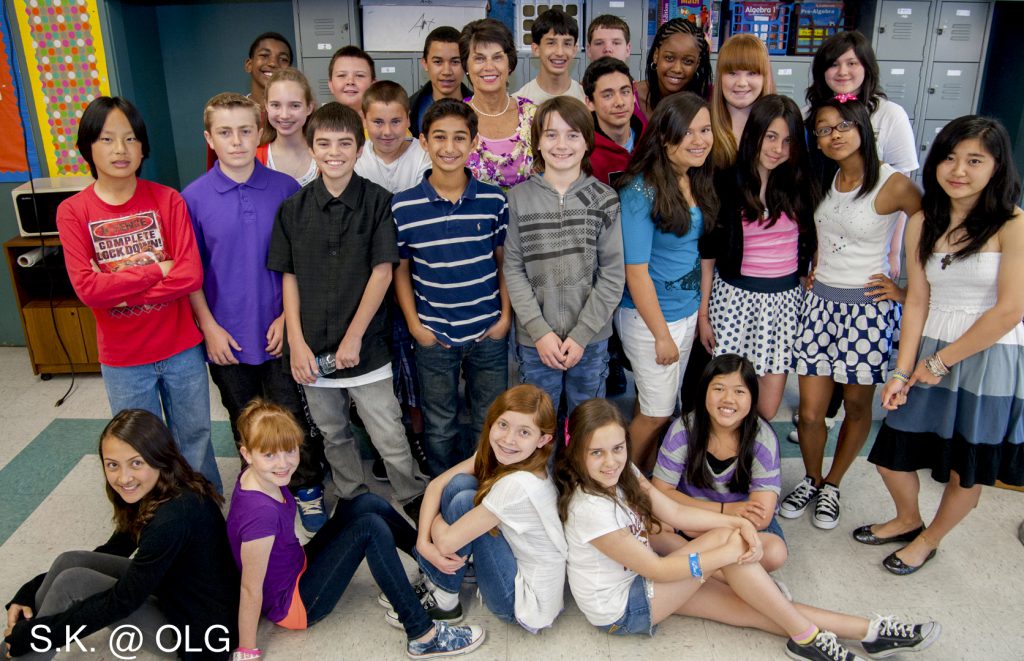 And along the way, teaching was not enough. During 1991, Susan learned that companies offered educational trips to the east coast so that children could learn more about our great country by actually visiting historical sites in the New York / Boston area and the Washington D.C. area. Not cheap, she met with parents to see if there would be interest. There was for the next 16 years! A week of days starting at 6 AM that ended, if they got back to the hotel by 9 PM, with an hour swim in the pool. Parents excused. It was like this for the whole week. Returning students and parents needed a week to recuperate. There was rumor that Susan herself would be starting to get tired at the end of the week. But no one could say for sure.
The east coast adventures came to an end during the 2015-2016 school year. This was the year that Fr. Gregory Heidenblut, O.S.A. was concluding the long tenure of the Augustinians as the parish's priests. He needed a new principal. One that had a clear vision of where the school had been and what was needed to move it forward successfully into the future. Susan's name had come up in the past, but till this time, she remained in the classroom with her students. This time, when asked by Fr Greg, she said yes. So now, her students were in every classroom.
With the 2015-2016 school year, she was principal, diving into every task with the same energy and passion that is her trademark.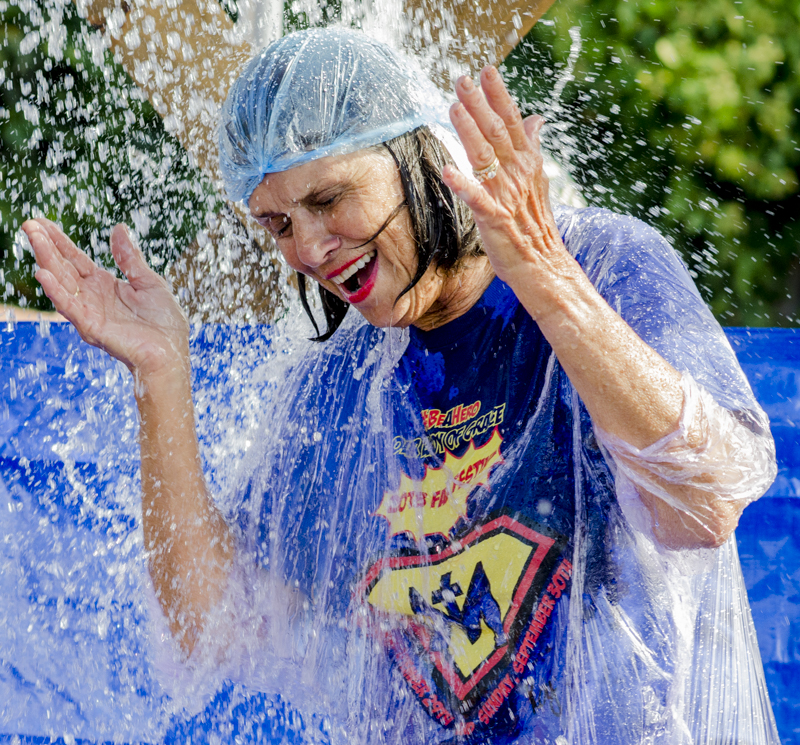 Susan led the school from 2015 till the 2020-2021 school year. She did all the things that a good principal should and would do: found great teachers; provided clear leadership concerned with developing a balanced child; seeing the school through an exceptional WASC Accreditation process; supported teachers as they taught; worked to find ways to reward teachers for their exceptional work and dedication; and never losing sight of the main reason for our all being here, the student.
In her February 7, 2021 note for the Parish Bulletin, Susan wrote about what it means to be in the OLG School community:
Dear Parishioners
I am so excited to inform you about Catholic Schools' Week which opens Sunday, January 31st and goes until February 6th. The theme is Faith, Excellence, and Service. I am proud to say our school children receive an education that combines Catholic faith and teachings with academic excellence. Along with those two values, we instill in our students the value of service.
To begin our week we have a "Pay It Forward Day" where the students will do random acts of kindness. They will continue on Tuesday paying it forward by making a quilt of thank you cards to be published on our Facebook page so all essential workers will see how grateful we are to all of them. On Wednesday wearing red, white, and blue we will honor "Grandparents and Special Friends" with love notes telling of the many ways they are special to us. We will put a class video on our Facebook page that day too. Thursday's theme is "Be a Rainbow in Someone Else's Cloud." Sisters and priests in the diocese often get forgotten. We will make a special card and make sure it is delivered to various locations where our retired nuns and priests live. Last but not least, Friday is "Higher Education Day" where we wear our favorite high school or college sweatshirt and we cap off the day with a virtual talent show.
We recognize that the 99% graduation rate from high school is directly related to the high standards for student achievement which our teachers provide throughout the TK-8th grade years. Knowing our parents expect us to set the bar high, we gladly take the lead and provide the curriculum they desire.
It takes a team to make all this work and the team consists of parents-teachers-students. Our dedicated staff and faculty, partnering with our loving parents, makes our job easier. Not all schools are blessed with a pastor like our Fr. Tom who loves the children and provides the support of the OLG community. And so we thank all mentioned above as well as all of you who use the "blue" envelopes to help defray expenses at the school. Every little bit helps us provide the best program possible.
Sending blessings to all of you from the school children knowing that Jesus said, "bring the little children to me." Susan Anderson, Principal–
Susan R. Anderson
Unity – Truth – Love
During her tenure as principal, Susan strongly believed in the creation of a "gracious space" at OLG School. She was influenced by Patricia Hughes' book Gracious Space where Ms. Hughes tells us that "our world will be a better place if we make sure to have a basic level of trust in one another so that authentic learning and working together will be productive."
OLG's "Oasis of Peace" mural
is where the day starts with pledge and prayer. The oasis includes the "peace bench" where students or staff can retreat to talk quietly or to spend a quiet moment. The children and Oasis represent the environment of "Unity-Truth-Love" that Principal Anderson envisioned as the guiding tenant for the school.
Then came the true test for her tenure. The COVID-19 pandemic. It swept across the world, the United States, California, and OLG. But the story is not what it did to us, but what Principal Anderson, the teachers, staff, and parents did when it came. With children locked out of the classrooms, Mrs. Anderson, the teachers and staff IMMEDIATELY moved to establish distance learning. That meant revising curriculum, relying on ZOOM to teach, and establishing a way that work could be distributed and collected from students. Of prime importance, keeping the children and their parents connected and moving ahead.
The battle cry : A full day of school five days a week!
And the entire community was able to switch to this new world within a week. No question about it being a learning experience for all, but perhaps with the attitude of Unity-Truth-Love that had been established, working together was just a little bit easier.
There were many months of distance learning. But when situations changed and classes opened again, classes were brought back into the classroom, several at a time to understand dynamics of being masked and in pod communities to minimize exposure. This migration back happened over a 5 month period, with things learned from the last groups helping with the next groups' return.
So prophetic where the words in her Parish Bulletin mentioned above:
It takes a team to make all this work and the team consists of parents-teachers-students.
… and principal.
During the Fall Festival of 2019, OLG School held its first Alumni Gathering. The school was opened so former Alumni [ students, parents, teachers, staff, and principals ] could wander the quiet hallways. They were able to gather, look at old yearbooks and momentos, and talk of the school's wonderful history and their lives as part of the community.
The School Board wishes to thank Susan Roberta Anderson for her years of dedication to the school. Countless is the number of lives that she touched and influenced, and continues to touch and influence.
Thank you Principal Susan Anderson.
May 1, 2022